Since more than a year I work on this shot now: first I tried out different locations, but all the times the clutter was overwhelming, only on a short portion of track you have a free sight to the tracks.
On one of these cold winter days early this year I finally reached this special location and so I returned there today.
With my brand new Nikon D5000 DSLR, just shooting around, but still not having finished that phonebook like owners manual. So it came as it had to: I started shuttering wildly (as I had missed this feeling for many years now after selling all these superb DSLR cameras I had before).
But a bit too early - so as the buffer memory was filled it was over -, so I have now plenty of shots before
the spot the loco should stay and after...
but not there were it should be!
Looks as if I had to return there again.
Fortunately I stayed for some more pictures but from other view angles: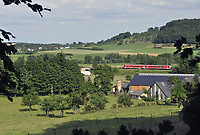 PhotoID: 288437
Photograph © Kilroy1313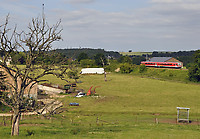 PhotoID: 288436
Photograph © Kilroy1313