Talk about slipping one past the goalie.....check out the crop!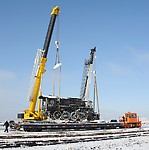 PhotoID: 383830
Photograph © Dan Bolyard
That square crop damn near jumped off the page at me. I thought such a crop was the kiss of death here. And he did it with his first shot on RP!
Dan, you not only have an interesting and newsworthy shot there, you may have unknowingly broken some rather old ice here! Nice one!