When adding this photo I could not think of a caption so I decided to start a post about it. Here is the photo: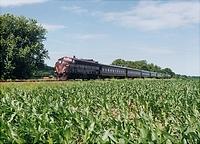 PhotoID: 96578
Photograph © Andrew Blaszczyk (2)
It is the Ohio Bicentennial Special headed toward Dennison.
I'm open to as many suggestions as possible and I would like to use the best one. Any help would greatly be appreciated.