Caught a train heading south with 2 GP40-2's on it in CSX paint working this little used branch near my house. I'm usually too much a wimp to go out with completely overcast skies. Very slow ride (10 mph and flagged crossings) so I had time to beat him to 6 or 7 angles in 5 miles (plus a couple angles from each place). Cloud cover and white sky but I thought they didn't turn out too bad..... One was accepted and another should be shortly...... But I had several more and some feedback would be nice on what to do or not to do...
Here is the one accepted: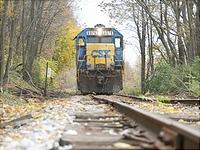 PhotoID: 124552
Photograph © Greg Dahbura
another that was accepted on appeal but the photo dissappeared... resubmitted.... rejected again and then another appeal.
http://www.railpictures.net/viewreject.php?id=182849
moody shot axed for bad crop:
http://www.railpictures.net/viewreject.php?id=182792
axed for similar angle:
http://www.railpictures.net/viewreject.php?id=182584
screener said to try as a vertical:
http://www.railpictures.net/viewreject.php?id=182582
And the others that I didn't submit or look better smaller: