A friend of mine called up the other day and told me he was coming south on UP grain train GSRKPG 15. He wanted me to come out and photograph him as he was thinking he may not make the grade into Plainview, IL on the UP's Springfield Sub. His train was pulled by less than 1 hp per trailing ton and at the bottom of the hill is a 25 m.p.h. slow order. At first I did not feel like driving the hour and a half to Plainview, then John Witthaus called, so I changed my mind and suggested we go find this train for a change of scenery, if not for anything else.
On the way up we stopped at Black Lane to see if anything was sitting on the old Conrail. Indeed, something was sitting there.
http://n691lf.rrpicturearchives.net/...aspx?id=144604
The first place we caught the grain train was Plainview after having gone north of town in an attempt to catch him at the bottom of the hill. North of town I noticed the last couple cars of the train heading south through the woods, so we darted back to the crossing at Plainview and waited, hearing quite a roar as he came up the hill around the curve. He topped the hill at Plainview at 5 m.p.h., and even though he made quite a noise, the worst was over.
PhotoID:
Photograph ©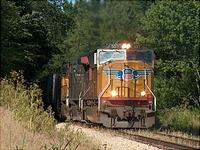 PhotoID: 109770
Photograph © John Witthaus - www.stlouisrail.tk
Since he was still struggling a bit, we shot down to the next crossing, which gave a wide open view of the prairie. We passed some waste product gang looking idiot walking down the highway with his thumb up in the air, and I was hoping the train would get to the crossing before this moron. I could just see Mr. High School Dropout Wannabe Gangsta coming up to us and doing some stupid "yo, gimme a ride." He just looked like the type that didn't have the IQ of the weeds along the highway, and I didn't want to deal with it. The train did get there first, so we shot it and left.
PhotoID:
Photograph ©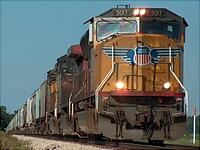 PhotoID: 109864
Photograph © John Witthaus
After this point, we really had a tough time. Now on flat ground, the train was rolling a bit faster. We beat it to Shipman by a matter of maybe one minute. For that reason, we really did not have time to pick a decent location or get the shot well composed.
PhotoID:
Photograph ©
After Shipman, we just got smoked. The track heads to Godfrey as a straight shot. The highway goes 5 miles west first. Once in Godfrey, we had our tangle with stoplight hell. We did not catch back up to the train until we got south of Roxana, after he had to slow down for Wann Yard and the NS interlocking.
We gave The Reverend a call and asked him to hang out the window and do something stupid. He gave us the double peace sign... or was he reaching out to give John a big hug and a smooch? I don't know. You decide.
http://n691lf.rrpicturearchives.net/...aspx?id=144612
After this point we caught him in Granite City. By then the sun was getting low, and he was about to get on the part of the Springfield Sub south of WR Tower that is backlit this time of year, so we ended the chase after these shots with some NS power parked where it usually parks near A. O. Smith Yard.
PhotoID:
Photograph ©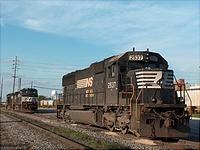 PhotoID: 109858
Photograph © John Witthaus
http://n691lf.rrpicturearchives.net/...aspx?id=144616
I hope you enjoyed.