With sunny weather, cooler temperatures, and a desire to photograph the Austin Western Railroad (AWRR), the new operator of what once was the Austin Area Terminal Railroad (AUAR), I set off early on Saturday morning to McNeil, TX from San Antonio. I arrived at Abbott Yard around 8 AM and met fellow San Antonio railfan Norm Schulze. At McNeil, we could see a variety of AWRR power sitting in the yard, but none in a good position for photography. After an hour and a half wait, we talked to WATCO employee at McNeil who told us that there are two trains on the line out near Burnet (an Abbott Turn and a Hill Job).
So, we set out for Burnet, but we stopped in Leander to photograph the Austin non-Steam Train with the Gator. The ASTC was going all the way to Burnet, so we highballed to Burnet to find the AWRR. An EOT on the radio alerted us to a train, but it wasn't at Summit, nor in Burnet proper, but it was on the south side of town near the crossing by the airport. We found the Abbott Turn (formerly the Gandy Turn in AUAR days) exchanging cars with the Hill Job. We were able to get shots of both trains from this crossing.
Here's the Hill Job with an ex-CNW GP50 leading a SD50.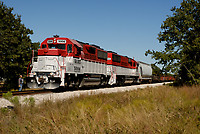 PhotoID: 208671
Photograph © Patrick Phelan
The Hill Job went to switch empties at area quarries while the Abbott Turn began its eastward journey to McNeil. However, they had more loads they needed to pick-up at Summit. The Abbott Turn had a pair of SD50s, 1 GP50, and 1 GP40-2W for power.
Here's a shot of them making the pick-up at Summit.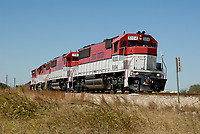 PhotoID: 208674
Photograph © Patrick Phelan
During the switching process, they busted a knuckle which delayed their EB departure. This would also mean delays for the ASTC passenger train.
The train departed before too long, and the chase was on toward McNeil. We got them at several locations between Burnet and Bertram.
AWRR Abbott Turn at Bertram (between the scale track and the station).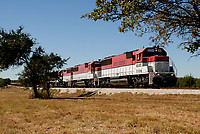 PhotoID: 208722
Photograph © Patrick Phelan
AWRR Abbott Turn passing the station in Bertram.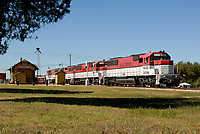 PhotoID: 208672
Photograph © Patrick Phelan
We kept chasing and got them next at Liberty Hill near the TX. Hwy 29 crossing. We kept EB to Leander and then shot them at the cut on the US183 crossing. We then moved to Walkerton and shot them cresting the hill. A telephoto lens is useful here.
PhotoID: 208721
Photograph © Patrick Phelan
We got them one more time in Cedar Park, and then went straight to Abbott Yard in McNeil to shoot the same power from the morning, but in good light. GP50 #5011 was the main subject.
All in all, a good day of railfanning, and I can mark the AWRR as "done" in my book for the time being.
Thanks for looking,
Patrick