Well, after what seems like an eternity (reality: several months), we finally had a cloudless, crystal clear blue sky say down here in San Antonio on a weekend. Coincidentally, it was Day in North America (DINA) 2007. So, I planned one heck of a trip to some lines that I haven't devoted much time to and to a couple of "must get" shots and items of interest.
I departed SAT around 8 AM bound for New Braunfels and the Guadaloupe River Bridge. I arrive at about 9 AM and set up on the old Fruast Rd. bridge (near the abandoned mill) and await my first train. I hear two trains take Track 2 though town, but, alas, I need a train on Track 1. After the second train passes, I hear a track worker get time on Track 2 and figure that I'm in good shape as everything will need to be on track 1. At 9:45 AM, I get my first train of the day crossing the river, coal empties heading back to the mine behind a pair of GEs up front, and another in DPU mode on the rear.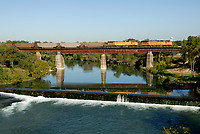 PhotoID: 207462
Photograph © Patrick Phelan
After 10-15 minutes, I get a SB empty rock train behind 3 AC60s. Oh, how the mighty have fallen...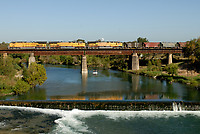 PhotoID: 207544
Photograph © Patrick Phelan
After another 10 minutes, I get a SB stack train behind more GEs, in a scene similar to the rock train, but with Pacer containers instead of rock gons.
After getting three trains across th bridge in a matter of 30 minutes, I decided to keep moving on my trip. I followed the Austin Sub to to San Marcos, and then took followed the Lockhart Sub all the way to Smithville via various roads. All in all, it was a nice drive. The only train I saw along the way was in Lockhart where a BNSF trackage rights train behind a BNSF C44-9W, an Oakway SD60, and a BNSF SD40-2 was sitting in the siding west of town. A tree near the tracks made for awkward photos.
After getting to Smithville, and seeing nothing but a couple of local power six-axles, I was disappointed. However, conveniently time radio chatter informed me of a WB coming off the old SP at West Point bound for the Lockhart Sub. I set up east of Smithville at Kirtley and waited for the train. It turned out to be another Pacer stack train behind UP 9433, a C41-8W, a CEFX yellow SD40-2 in SD45 body, and a UP SD60. I got a nice "across the field" shot just east of Smithville next to a small pond.
The train proceeded through Smithville and I set up on the west end of town at MP 0.2 (Hwy 95 crossing) to get a shot of the train passing under the Smithville water tower, a shot I had wanted for some time.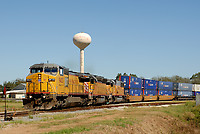 PhotoID: 207464
Photograph © Patrick Phelan
I went down Hwy 95 to FM 535 and beat it to a point on the Delorme called Togo. I found a nice shot right off 535 from a ranch access road.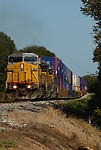 PhotoID: 207463
Photograph © Patrick Phelan
I kept going down FM 535 to the town of Rosanky where I got this shot at the FM 535 crossing.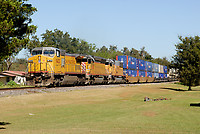 PhotoID: 207545
Photograph © Patrick Phelan
At this point, with goals located to the north and no easy way to chase, I bid adieu to the stack train and headed toward Bastrop and the Waco Sub. I followed the old MKT from Bastrup to Taylor through Elgin. No trains were found, but a variety of good angles were noted for a future chase. At Taylor, there was nothing set up to go toward Austin, so I got on US79 and went south. At Hutto, I spied a UP mixed freight in the siding, but with no easy way to get to the sunny side of the tracks and boring power, I kept moving toward Round Rock.
My next stop was at McNeil where I found a rock train coming out of the sun at AUAR, err, Austin Western diamond. I made my way to AWRR's Abbot Yard and found some AWRR power, but none of it was in a position to be photographed. I fired off some distance telephoto shots for the digital record and called it a day and made my way back to San Antonio.
All in all, it was a good day. I got to explore two lines (Lockhart & Waco Subs) that I had previously devoted little time to and got some nice shots. Definitely quality > quantity.
Regards,
Patrick