With great sunny springtime weather here in central TX this past weekend, I decided to make a two day, 800 mile railfan trek to get couple new shortlines and see what UP and BNSF had to offer in areas that are usually outside of my one-day railfan trip range. Additionally, it seemed like a great way to console myself after missing the NS's (and to a much lesser extent CSX's) Masters train in Georgia.
I started Saturday morning with a goal of shooting the Colorado, Gulf, and San Saba shortline that runs between a BNSF interchange at Lometa, TX and the end of line at Brady, TX. Why us Brady, TX famous? It is the town located nearest to the geographic center of Texas. Fact courtesy of Wikipedia (
http://en.wikipedia.org/wiki/Brady,_Texas)
. Customers on the GCSS include some feed dealers and sand used in the oil drilling process.
Anayways, at Lometa at the BNSF interchange, I find nothing on BNSF and a lot of covered hoppers in a small yard. So, I head west toward the lines HQ at Brady in hope of finding some parked power for rosters. However, I luck into much more than that and I intercept their EB road train at San Saba, TX and get this sweet shot just east of San Saba as they pass a wild flower patch. The lead unit was a FURX GP in KCS colors while the trailer was another FURX, though painted for a sister line, the Missouri & Valley Park.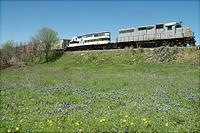 PhotoID: 182089
Photograph © Patrick Phelan
I get them at two other locations, before I head back west with a goal of Brady, TX (some 40 miles away). When I get to Brady, I quickly locate their yard and spy locomotives painted for the defunct South Orient RR and in a Texas-flag inspired GCSS paint. A large "Private Road" sign stops me from entering their property, though I managed to get a shot of the South Orient unit from the edge of their property.
http://members.trainorders.com/train...t203_brady.jpg
A mid-day switch crew comes on duty around 1 PM and I get them crossing Brady's main drag as lite power heading to get some empty covered hoppers. Fortunately, they were using a GCSS painted unit to give this shortline some identity.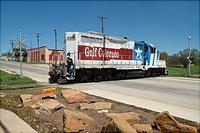 PhotoID: 182154
Photograph © Patrick Phelan
http://members.trainorders.com/train...horizontal.jpg
http://members.trainorders.com/train...ertical_bw.jpg
After surmising that the GCSS was done, as far as the photo angles were concerned, and with goals still another 120 miles to the north, I decided to head to Brownwood, TX on BNSF's Lampass Sub that connects the Houston area with the BNSF Transcon in the Amarillo area. When I arrive, I find another shortline, Texas Rock, and a red GP parked for the weekend. I get some marginally lit rosters of TXR 101 before I keep moving on to the old Santa Fe.
http://members.trainorders.com/train..._brownwood.jpg
Not much was moving except for another marginally lit WB mixed freight led by a Warbonnet and a parked Loram Railgrinder, so I kept heading north to Dublin, TX and the Forth Worth & Western Railroad (FWWR). Photogrpahing the FWWR has been a goal of mine since moving to TX last summer and with Mike Derrick providing some reconnaissance from afar, I arrive around 5 PM in Dublin to find three of their GP38-3s in town. Two of them were parked in bad light, but #2000 was beautifully lit with a flatcar of new ties in their yard on the east side of town.
PhotoID: 182087
Photograph © Patrick Phelan
I crash for the night in Stephenville, just up the road from Dublin, with a goal of returning in the morning to photograph the set of locomotives I bypassed earlier due to bad light. When I get back their on Sunday morning, I find those two locomotives (led by #2007) MIA, but I am relieved when I find two more, different FWWR engines in the yard.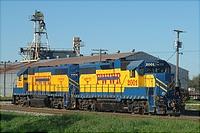 PhotoID: 182088
Photograph © Patrick Phelan
http://members.trainorders.com/train...004_dublin.jpg
Apparently, during the night, the train led by #2007 left and was replaced by one that GP38-3's #2001 and 2004 for power. All in all, I'm thrilled to shoot the FWWR, albeit I will have to return some day to get them moving.
After this fun start to the day, I decide to head east to Meridian, TX and the BNSF. I follow the BNSF south all the way to Temple (through MacGregor, Valley Mills, Crawford, etc) without a single train. I guess BNSF decided that was going to be their April Fool's joke. I get to Temple, and find lots of BNSF power by the railroad museum/Amtrak station (including SD45-2's), but no moving trains. The BNSF track inspection train can be seen in the distance. I head to the main line fueling rack on the SE side of Temple and find 3 SB/EB BNSF trains (1 tank car train, 1 mixed freight, and 1 stack/vehicle/perishable train). Before too long, the stack train departs and the chase is on toward Milano. I get him at Rogers and Pettibone (shooting some video at this point, in addition to digital stills), before he slows for a meet at the town of Cameron.
At Cameron, he meets two WB/NBs, with the first one being an empty grain train with a pair of TFM SD70MACs leading. Got a shot of it passing town hall found below.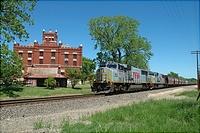 PhotoID: 182084
Photograph © Patrick Phelan
The second WB was a mixed freight behind a hodge podge of power including a B40-8. The stack train moves south to the next siding at Hoyte and get a nice telephoto view of him passing through the interlocker. Lead unit was a ES44DC, #7777, with a pair of SD40-2's trailing.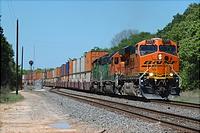 PhotoID: 182080
Photograph © Patrick Phelan
The NB departs as soon as the stacker clears and I head back into Cameron and get some sweet video of its consist. behind the lead ES44DC, were 6 EMDs (5 SD40-2s in BN green paint and one yellowbonnet GP). Continuing on my way to Milano, TX and UP's Austin Sub, I encounter a NB empty PRB coal train and a pair of lite GPs heading back to Temple, but NB trains on a north/south alignment thwart my attempt at any decent photos.
I reach Milano, TX and turn SW toward Austin, TX via Taylor, TX and US-79. I spot two EB UP freights between Taylor and Milano, but they're coming straight out of the sun like a Messchermit and I keep moving. At Rockdale, I spot a switcher for shortline Rockdale, Sandow, and Southern (RSS), but it is deep on RR property, so no shot there. I also spot a Point Comfort & Northern train through the trees with one blue PCN unit and two red leasers.
At Taylor, TX, another EB train, this one carrying rock, is waiting for a crew change, while I find an WB parked near the west end of the yard. I get a nice telephoto shot from grade crossing. I like the look of the shot, especially the grain facility and other UP power in the distance.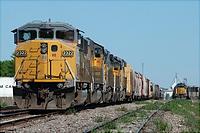 PhotoID: 182085
Photograph © Patrick Phelan
I keep heading SW toward Austin, but I make a quick stop in McNeil, TX to see if shortline Austin Area Terminal Railroad (AUAR) has any power sitting at their yard. I luck into a lot of power at their yard, but it is all behind fences. I manage to grab a neat low angle telephoto shot through a gap in the fence at the road crossing west of their shops.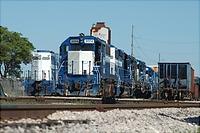 PhotoID: 182082
Photograph © Patrick Phelan
I made my way back home to San Antonio to end the weekend of trains. All in all, it was a great trip. While it may not be a NS business train behind F's, it sure was a competitive second place.
As for the facts, I photographed locomotives from 1 leasing company (FURX), 4 shortlines (GCSS, AUAR, FWWR, and TXR), 3 Class 1's (BNSF, UP, and KCS), 1 rail services provider (LORAM), and spotted locomotives from another shortline (RSS). Counting parked trains, approximately 26 trains were seen over the weekend (while not spectacular by any means, the quality surely outweighed the quantity). Perhaps the best statistic is that I added three new railroads (FWWR, TXR, and GCSS) to my collection.
Thanks for reading and looking,
Patrick