Its been a long time since I posted, and was finally able to get out see some TX trains this past weekend. I was out on UP's Sunset Route near Flatonia, TX and have a couple pictures to share. It was a good day of railfanning with 4 KCS trackage rights trains, a BNSF trackage rights train, and a variety of UP freight (coal, intermodal, mixed, and grain).
Anyways, first up is a EB KCS trackage rights train seen from the operator's window in the old SP Flatonia interlocking tower.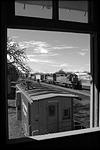 PhotoID: 176049
Photograph © Patrick Phelan
Next, an EB UP freight with the Flatonia tower mentioned in the first picture.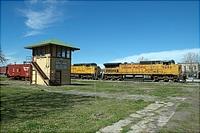 PhotoID: 176051
Photograph © Patrick Phelan
KCS SD70ACe #4004 leads an EB mixed freight at Engle, TX.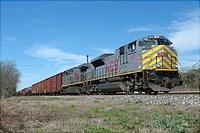 PhotoID: 176044
Photograph © Patrick Phelan
Lastly, another SD70ACe, this time from UP, leads a WB intermodal under the Flatonia water tower.
PhotoID: 176048
Photograph © Patrick Phelan
Thanks for looking,
Patrick