IS there anything else wrong with this photo for RP standards? If I had taken the next shot, the lead loco would have appeared from behind the tree. I understand the point of the rejection to be the clipping of the left steps and maybe the stoplight. Any way to fix it or maybe appeal?
http://www.railpictures.net/viewreje...key=1221216411
I know it's not quite as perfect as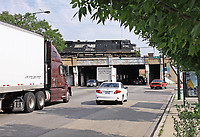 PhotoID: 325713
Photograph © Paul Hoffmann
, but I was hoping to tell a story like travis did(only muchhh shorter!). It feels to me like the story's incomplete without this shot.