Good weather, free time, and a desire to get a couple of shots I've spotted over the last couple of months led to me spend a couple hours railfanning on Saturday and all day on Sunday.
Saturday, Dec. 15:
After judging a local science fair in the morning, I made my way toward Lackland AFB and the UP yard on the outer edge of San Antonio. I had hopes of finding either a WB on the Sunset Route or a SB on the Laredo Sub for me to chase. Fortunately, a Laredo Sub SB could be seen as I crossed over the tracks on Military Dr., so I moved to an industrial crossing where the ex-SP and ex-MP parallel each other. The SB had UP 9270, a C40-8, leading and was a mixed freight train. I continued to chase it south and got it several times around the town of Lytle and at the siding just north of town.
Here's a shot of 9270 south in Lytle proper: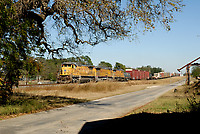 PhotoID: 215780
Photograph © Patrick Phelan
I kept chasing and set up for it again just south of Devine at the south end of the siding.
Here is the Devine siding shot as the train crosses a small humpback (telephoto lens useful here):
PhotoID: 215654
Photograph © Patrick Phelan
At this point, I abandoned the chase since the photo spots to the south all look the same. I then made my way to La Coste where I intercepted a WB mixed freight on the Sunset Route led by SD70ACe #8322. This train was the daily mixed freight out of Houston that runs with DPU power toward the end of the train. I shot him just west of La Coste at Pearson, at Dunlay, at a rural crossing between Hondo and Dunlay, and finally in Hondo from the Rte. 173 overpass. The overpass shot is one that I had wanted for some time and I'm quite happy with the result...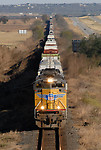 PhotoID: 215652
Photograph © Patrick Phelan
At this point, I called it quits for this chase and went home, contemplating what to do on Sunday.....
Sunday, Dec. 16:
Saturday's contemplation revealed my desire to get a shot of a train crossing the Colorado River in Columbus. I awoke early on Sunday and made my way east to Columbus, arriving at the bridge at 9 AM. I waited about an hour and was rewarded with a WB KCS train led by SD60 #708 and 2 SD40-2 cousins.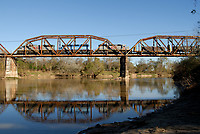 PhotoID: 215790
Photograph © Patrick Phelan
Next, I waited for 3.5 hours until 1:30 PM without another train movement. In fact, the only movement I saw was a UP hi-railer. I called it quits for this location, got lunch, and started following the tracks east toward Flatonia and home in San Antonio. At Weimar, I saw that the KCS train I photographed earlier was parked in the siding without a crew. As I was leaving the Weimar siding after getting roster shots, I saw a WB fly by with something red in the lead. I highballed to Flatonia and set up at the rail park and lucked into a KCS de Mexico Retrobelle (a.k.a. TacoBelle) #4077 leading a mixed freight.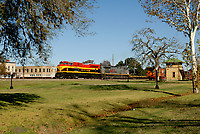 PhotoID: 215789
Photograph © Patrick Phelan
Anyways, after getting him at the rail park, I moved down to Scott School Road and got a telephoto shot with the train wrapped around a s-curve. I kept chasing to Moulton, where I got more shots at the northernmost crossing in town, since 4077 was stopped. It was then back to Flatonia, where I photographed my first UP train of the day at photo pavilion, a WB stack train. Several railfans were at Tommy's pavilion enjoying the views.
Next up, two EB stack trains passed, and then a WB empty rock train, led by a trio of AC60s, departed from the Flatonia siding. I set up at Cal-Maine Rd. and got a nice shot as they headed into the late afternoon sun.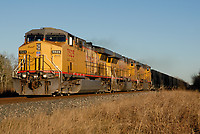 PhotoID: 215800
Photograph © Patrick Phelan
Oh, how the mighty have fallen... The AC60s were once the pride of the fleet pulling hot trailer trains, now they've come to Texas to die a quiet death hauling rock.
I got this empty rock train two more times at Waelder and Harwood before committing to Interstate 10 for my trip home.
All in all, not a bad weekend, and a good way to close out Texas railfanning in 2007.
Thanks for looking & Happy Holidays,
Patrick