In Mitch's shot the subject is the connection, in your shot the subject is a couple of freight cars. My eye goes first to the brighter car on the right, and doesn't spend that much time at the dark, rather small and undetailed couplers, rather, looks all around for a place to land, and really finds none.
Also, his has a much stronger feel of movement. I think you are at the wrong scale, too loose to focus on the connection, too tight to show the movement of the cars against the background.
Try again, and look for a composition, not just a snapshot.
Here is a blur I like, plus one of my own which is OK - but both are truck blurs, not coupler blurs. For coupler blurs Mitch's is about as good as it gets.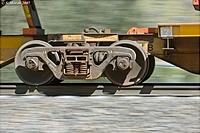 PhotoID: 184860
Photograph © Sean Moran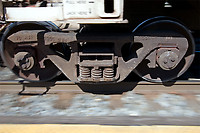 PhotoID: 204352
Photograph © Janusz Mrozek
This one isn't a detail blur but I do like it, and it shows what one can do with entire freight cars.
PhotoID:
Photograph ©