Since my brother, cousin and I annually take a trip to the Cresson, PA area for exactly this reason...snow!..I have had my share of experience with shooting in snow. Though I now shoot with digital which can be seen as a blessing in poor whether do to the trial and error aspect of it, I used to shoot with film.
First examples of how I use the camera (Canon Rebel 2000 EOS) in snow with a is how I dealt with film on both sunny and cloudy days; total 100% auto. Knowing a lot more about photography now, I know that I should have been more careful when it was cloudy to make sure that the shutter was fast enough to stop action but slow enough to allow light into the camera and also to step up the exposure to exactly to what you pointed out +1.0 to make it seem brighter.
This first photo is full auto on a cloudy day.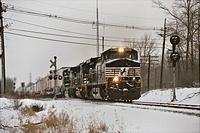 PhotoID: 42832
Photograph © Andrew Blaszczyk (2)
Note how dark the engine is, not allowing many details to be shown and also the sky came out very dark making it look dramatic but not too appealing.
This photo is taken the day after while the sun was out.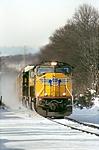 PhotoID: 43887
Photograph © Andrew Blaszczyk (2)
On sunny days you really do not have to worry about the camera messing up exposure unless you focus on the sun-lit snow and not the engine.
This is from a Cresson trip while I was using film. It was lightened in photoshop but no details in the trucks can be seen clearly because I did not shoot it overexposed.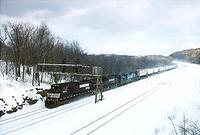 PhotoID: 82709
Photograph © Andrew Blaszczyk (2)
The next examples are recent images taken by me in snowy conditions with a Fuji Finepix S7000. Once again in sunny conditions I let the camera do most of the work only adjusting the shutter speed and letting the camera choose the f-stop. But when it comes to shooting while the snow is falling and the sky is that all too exciting gray color, I take over the controls. The first thing I do is throw the camera on a tripod to prevent any camera shake at slower shutter speeds. The next thing I do is set the shutter speed to about 1/200 (depending on angle of shooting subject also), but this is for a standard 3/4 shot. If the camera tells me that 1/200 is going to be too dark i change the ISO on the camera to 400 or 800 (dawn or dusk light). Note the auto ISO is 200 for the camera. I then switch to manual mode and chose the f-stop based on when the light meter reads +2.0. This makes the entire photo overexposed which can be corrected in photoshop using the Brightness/Contrast tool. When everything is set I do a test shot to see if I need to decrease or increase exposure.
This photo is taken with a muted sunlight but with the camera in total auto mode.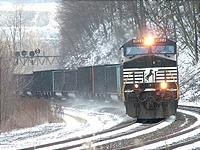 PhotoID: 91721
Photograph © Andrew Blaszczyk (2)
In the next two photos as you can tell the sun was not going to come out so on manual mode I set it too take the photo overexposed two steps. In photoshop I increased contrast to make the engine and signal bridge (in one case) look more 'realistic' while still allowing details such as the hoses and trucks be seen.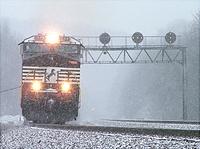 PhotoID: 91683
Photograph © Andrew Blaszczyk (2)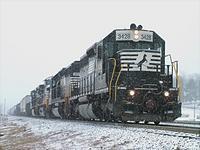 PhotoID: 91694
Photograph © Andrew Blaszczyk (2)
These are my experiences with shooting in the snow, I hope some information has helped you or anyone else who reads the post. This info also works on cloudy days during any season (as long as you don't shoot the sky).