I just got back from visiting the parents yesterday in Stuart, FL and was able to catch a couple FEC trains during the week between Christmas and New Years. Obviously, the railroad was not operating on a full schedule, but it was still busy enough to make it interesting. In the end, I was able to catch FEC 12 trains in the Stuart area.
Here are some (only four right now) of the highlights...
FEC NB Extra #240 with SD40-2 #704 leading at Stuart. This shot was from the US 1 bridge over the St. Lucie River as it passes some very expensive condos under construction.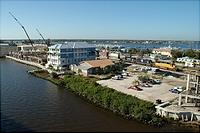 PhotoID: 170205
Photograph © Patrick Phelan
FEC SB train #123 with snoot-nose SD40-2 #715 leading. This was also shot from the US 1 bridge over the river.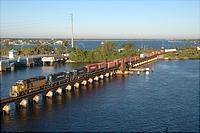 PhotoID: 170204
Photograph © Patrick Phelan
FEC NB train #208 with three different FEC paint schemes (new blue, old blue, and yellow) and one of the leased Geeps with a lot of rock cars. This was shot from the north shore of the old US 1 St. Lucie River bridge that has been turned into a local access road and and a fishing pier. Of note, the old blue paint scheme engine is a GP38-2 that is rarely, in my experience at least, seen on the road except for moves to the shops at New Smyrna Beach.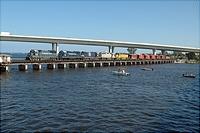 PhotoID: 170206
Photograph © Patrick Phelan
FEC local #925 SB with GP40-2 #413 long-hood forward and six rocks loads at the road crossing that can be seen in the first link I posted. This seems like a classical FL shot to me with the big palm tree to the left of the engine.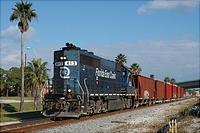 PhotoID: 170203
Photograph © Patrick Phelan
Thanks for looking and Happy New Year,
Patrick