Just for kicks, I went on Microsoft Train Simulator last night, in search of going to the same location that this photo was taken.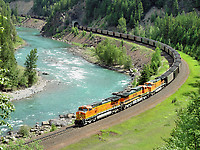 PhotoID: 33479
Photograph © Larry Larson
Well, after several attemps of trying to pinpoint where the place is, (i'm no where near the Montana area, let alone Marias Pass) I found it and I kept a log so other people can visit it. If you want go to the place on MTS, heres what I did: I started with a pair of BNSF Dash 9's with 30 grain cars and started in Essex heading toward Whitefish yard. I choose summer, clear and about 10 AM. So I started in Essex near MP 1170.2 and heading for about 15-20 minutes at 40-80 mph.
I passed Pennacle MP 1173 and Red Eagle MP 1185.6. Finally after heading over the Nyack switch, I saw the famed river on my right and started slowing down watching for the 2 tunnels and then the long right turn along the river where the shot was taken. Sure enough, the 2 short tunnels came, and the right turn came. I made it! Unfortunately MTS didn't offer the correct external view to capture the train like Mr. Larson did, but seeing it in the simulator was pretty cool anyways.