http://www.railpictures.net/viewreje...&key=132476167
I thought the low angle might overcome the foreground clutter and thought I might get lucky twice.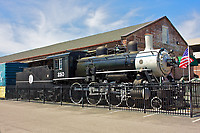 PhotoID: 322819
Photograph © Dennis A. Livesey-liveseyimages.com
But where is the Bad Cropping/Balance? Too tight on the right?
Or should I forget it and try with this:
Thanks.
__________________
Dennis
I Foam Therefore I Am.
My pix on RailPics:
I am on Flickr as well:
"Dennis is such a God, he could do that with a camera obscura and some homemade acetate."
Holloran Grade
"To me it looks drawn in in Paintshop. It looks like a puddle of orange on the sky."
SFO777