Hi Jake,
I think the first one will be tough to save. The quality of the image looks alright, but the trolley is way to far to the right. I think I understand what you were trying to do....show the trolley and some pretty foliage.....but the timing on the shot and the angle are not doing you any favors. The shot is also unlevel...leaning left.
A couple of things to do differently would include: shooting more from a more head-on angle and waiting a couple of more seconds, so the trees and the trolley are closer together and can be more closely cropped. Something like this: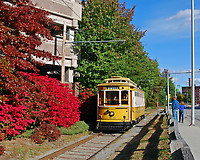 PhotoID: 256082
Photograph © Kevin Madore
Mine's not a masterpiece to be sure, but it achieves what I think you were trying to do.
The second shot is definitely better, but the angle is still too much like a 3/4 wedge or a roster shot...and the RP Screeners will want to see the nose of the car closer to the left side of the frame....essentially wiping out the foliage you were trying to show. By cropping it more like a roster shot (look through the data base at some and see how they are cropped), you might well be able to get it in, but the result will not likely be what you were going for.
Hope that helps at least a little!