Last Sunday, with the impending end of the Austin Area Terminal Railroad (AUAR), I made my way to McNeil, TX from San Antonio to find the AUAR for a final time and to see if I could luck into a Sunday operation.
Well, lady luck was with me, and as I drove by Abbott Yard in McNeil, I found a set of 4 AUAR engines (no leasers!) with a small cut of general freight stopped at the west end of the yard. I moved over to the diamond with the UP Austin Sub and got some shots as the Gandy Turn to Burnet passed over the UP and by the commuter rail construction.
http://members.trainorders.com/train...il_diamond.jpg
Next, I made my way to Cedar Park and followed the tracks all the way to Leander to find a good photo spot. I found a decent one at the soon-to-be commuter rail station where I had shot the ASTC excursion train a month earlier. I waited and waited, and eventually, the AUAR train arrived. However, it had grown and now had ~40 rock empties in addition to 6 or 7 cars of mixed freight.
http://members.trainorders.com/train...02_leander.jpg
Next, I moved on to Bertram, where I shot them passing an old building with a classic orange Gulf sign.
http://members.trainorders.com/train...02_bertram.jpg
Also, at Bertram, the Gandy Turn met a motor car trip that was heading east/south to Cedar Park from Burnet.
I kept chasing the Gandy Turn west to Burnet and was able to get shots at numerous locations between Bertram and Summit. At Summit, the train stopped to switch some cars out, so I photoed the power for the Hill Job (switcher in Burnet area?). It consisted of an ex-MKT GP40 #191 in the black/gray and an end cab switcher in white/blue paint.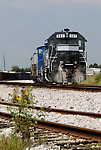 PhotoID: 202953
Photograph © Patrick Phelan
After grabbing a quick lunch and a tank of gas, I made my way to the south side of Burnet where I found the Gandy Turn picking up some loaded rock gons. Next, the Gandy Turn moved back to Summit to get some more rock gons, as well as 4 cars of general freight. I photographed them as they switched with the 4 EMD products.
http://members.trainorders.com/train...003_summit.jpg
http://members.trainorders.com/train...wide_angle.jpg
Their final train back to McNeil consisted of nearly 50 cars, mostly loaded rock. I kept chasing them east to Bertram where they met lite power ECRX 9055 at the scale track siding.
http://members.trainorders.com/train...55_bertram.jpg
The chase continued and I got a shot of them just east of Liberty Hill where the tracks make a turn to the south and into great sunlight.
http://members.trainorders.com/train...d_junction.jpg
Next, I shot them at Leander, but I cloud skunked. Next shot was just south of Leander at Walkerton where the train must fight a nice grade.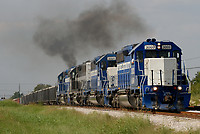 PhotoID: 202954
Photograph © Patrick Phelan
Next up was a shot in Cedar Park from a location near the ASTA facilties.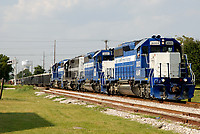 PhotoID: 203793
Photograph © Patrick Phelan
I made my way back to McNeil, but the Gandy Turn was busy switching rock loads in an inaccessible location back in the woods. There was no legally photographable power at Abbott Yard. With the light disappearing, I decided to make my way back to San Antonio knowing that I had photographed a daylight Gandy Turn, not a week too soon.
I plan on making my way back to McNeil on a sunny weekend day on October to shoot the Austin & Western. I will post those results when that trip is complete.
Thanks for reading & looking,
Patrick